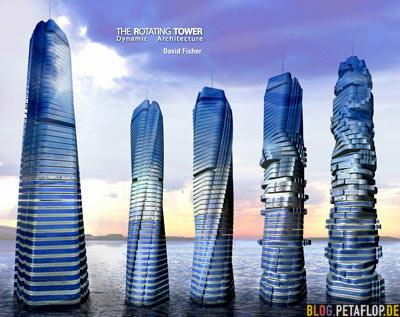 Een bijzondere ontwikkeling:
Wat als we op elke verdieping van een wolkenkrabber een windturbine plaatsen? Dat zou betekenen dat je misschien het hele gebouw kan voorzien van windenergie.
Wat als we het nog bijzonderder maken: we laten het
hele gebouw bewegen met de wind
?
Dan krijg je wat gebouwd lijkt te gaan worden in Moskou en Dubai: de israelische architect David Fisher heeft iets bedacht dat hij
Dynamic Architecture
noemt. Op zijn site kan je al een appartement reserveren, dus de gebouwen lijken er echt te komen.
Mijn bedrijfseconomische hoofd kan niet begrijpen dat bewegende verdiepingen niet een enorme hoeveelheid energie kosten, waardoor het hele gebouw veel meer energie kost dan een normaal gebouw kost.
Maar zeg nou zelf: als je het
filmpje
bekijkt, dan is een dergelijk gebouw extreem opvallend voor elk land, landschap en stad. En zullen er ongetwijfeld mensen die van opvallen houden er in willen wonen. Ik zou er draaiierig van worden, maar dat is mijn probleem.
Of dit gebouw het langer uithoudt dan 5 jaar durf ik wel te betwijfelen: alleen al de combinatie van draaiende verdiepingen met de Moskouse vorst of het zand van Dubai betekent een gigantische post aan onderhoud.
Maar weet je: misschien is dit wel het ei van Columbus, dus laten we deze innovatie niet begraven voordat hij er is. Hulde aan de mensen die het risico hiervoor nemen, het vraagt echt durf. En alleen al de videos zijn spectaculair.
Nu de energierekeningen nog.